Solar Thermal Magazine Readers Get a Discount!
Finding a job in the exploding clean energy field is one of the best ways to ensure an interesting and rewarding career. Clean Technology and renewable energy are the hottest fields not just in the USA, but all over the world. In our search to bring Solar Thermal Magazine readers solutions to the job and career aspirations we discovered this service that quickly delivers your resume to the companies that are searching for candidates.
                             We have arranged a discount for Solar Thermal Magazine readers. 
                                                     Your $5 off PROMO Code: 'mazmh'
Here is a way to quickly have your resume uploaded to over 150 job-boards and companies so that they can find you for the job openings that they have. This is an alternative to setting up an account on Monster, Career Builder etc and checking everyday on fortune 500 companies job boards for new opportunities and then submitting you resume to each job that you are interested in.
This technology accepts your resume and creates a resume feed that HR departments and hiring managers check daily to find the people they need to fill their open positions.You can specify what type of career your interested in on the short application.
Here are the 10 steps to the process:
You upload the resume into the ResumeRobin.com system
Your resume file (ie .doc, .pdf) is saved on our server's harddisk.
Your resume is parsed into two versions: an HTML version and a plain text version, both of which are saved in our database.
Your resume is entered into the daily feed file, which is later used to upload it into some of our partner network sites (see below).
The system then starts cycling through the thousands of job boards, career websites and recruiters.
For job boards and career sites, our system connects to them via two ways: API's or feeds. During an API connection, a direct connection is made with another system (a job board for example).
Through an SOAP request, various information such as name, address, email and resume body are transferred from our system to our partner's system. With feeds, a XML feed file is formed every day. This feed file, through its direct URL, is pulled and read daily by our partners.
For many recruiters, we still use the old email protocol to mail them resumes. Our partner recruiters usually have a specific email address to receive resumes from us. Some of these emails are automatically parsed into their applicant tracking systems.
Once your resume has been uploaded to our partner network, our system sets a preferred flag on your account, so that your resume comes up on top of related keyword searches when employees search our vast internal database of resumes.
Recruiters and hiring managers search our system and our partner system for applicants. They find your resume and see your contact information. If they think you are a fit for the position, they contact you via phone, email or any other contact method you've listed in your resume (skype, instant messenger,etc)
Here is one women talking about her experience with the Resume Robin.
Resume Robin ( Named after the founder and author), also offers a free resume review service and a paid resume writing service.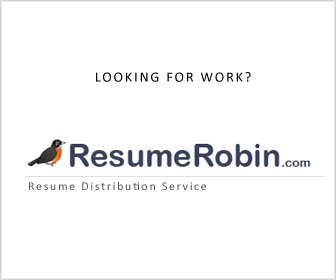 About Gordon Smith
Gordon's expertise in the area of industrial energy efficiency and alternative energy. He is an experienced electrical engineer with a Masters degree in Alternative Energy technology. He is the co-founder of several renewable energy media sites including Solar Thermal Magazine.
Twitter •